Posted by: pat 9 years, 8 months ago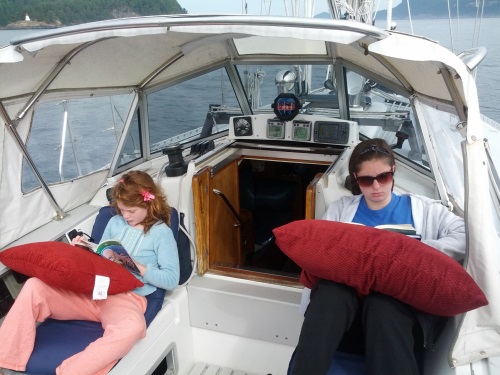 Onward to Nanaimo!  This is where the trip gets interesting for me because we are breaking new ground.  Today we transit Dodd Narrows, as famous a tidal passage in its area as Desolation Pass is for those who mostly cruise the US islands.
We spend the day blowing through, or rather steaming through, the entirety of the Gulf Islands.  So odd to just fly right by so many destinations we've visited in the past.  I realize we can easily spend weeks just in the Gulf Islands having a wonderful time…it makes me really hope that Desolation Sound is worth passing all of this by this year.
The weather is grand except for a lack of wind.  The clouds clear and it becomes a hot day with not a cloud in the sky.  A day I can tell will require multiple sunscreen applications.  The autopilot is doing a bang-up job as we pass by Otter Bay, Montague (and the Pub Bus!), Ganges, and Telegraph Harbor along with so many more.  It is hot and we are ahead of schedule for Dodd Narrows' slack, so we drop the hook off the south end of De Courcy Island, just opposite of Pirate's Cove, and take a break for a swim.  It is glorious.  The water is warm for us at 65 degrees.  I bust out the snorkel gear and take a few dives under the boat to check out the prop and zincs.  Nothing out of the ordinary there.  It is always fun to be able to dive on your own boat.
Then it is off for Dodd Narrows and Nanaimo.  I found Dodd Narrows to be no big whoop.  We fuel up at Nanaimo and get an assignment on the dock.  No slips!  This is the norm from here on out.  We are parked directly opposite of the Mexican restaurant on the docks, Penny's Palapa.  Lots of sailboats here, many from Seattle.
I wrote a bit about Nanaimo and Nanaimo bars on this other post so will try not to repeat those observations here.
We decided to stay at Nanaimo for two nights because we need to provision, and we could use a break from the every day up and go routine, and I've always been a bit fascinated by Nanaimo but have never visited and would like to check it out.  In hindsight this was all a big mistake.  OK that's hyperbole, there were plenty of positives to our stay in Nanaimo…but it was too hot to really enjoy walking around the city, and much of it was closed for the BC Day holiday weekend.  I wanted to get a couple of things at the chandlery.  Nope, closed for BC Day.  I wanted to buy beer from the apparently well stocked liquor store.  Nope, sorry!  At least the museum and the Bastion were open.  The museum was a kick, I recommend it.  Nanaimo has a fascinating history with the coal mine that goes under the bay, the mill started by an Indian (or Pakistani?) immigrant, the Canadian Pacific Steamships that ran pleasure cruises all over the nearby waters, the Japanese herring packing industry, and on and on.  And of course there is a whole exhibit just for the history of Nanaimo bars, including seating stools that are crafted in the form of Nanaimo bars.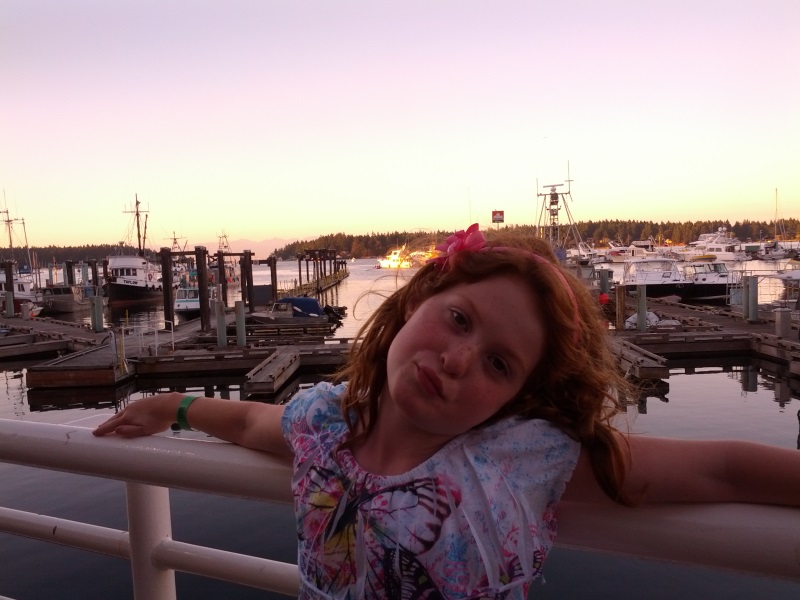 Much of the best of Nanaimo is right on the waterfront esplanade.  We enjoyed our evening strolls there, out to the walking and fishing pier full of hopeful anglers and pitchers of crab traps.  There is a lagoon which we realized too late in our trip is a viable swimming spot, and a nice park and playground.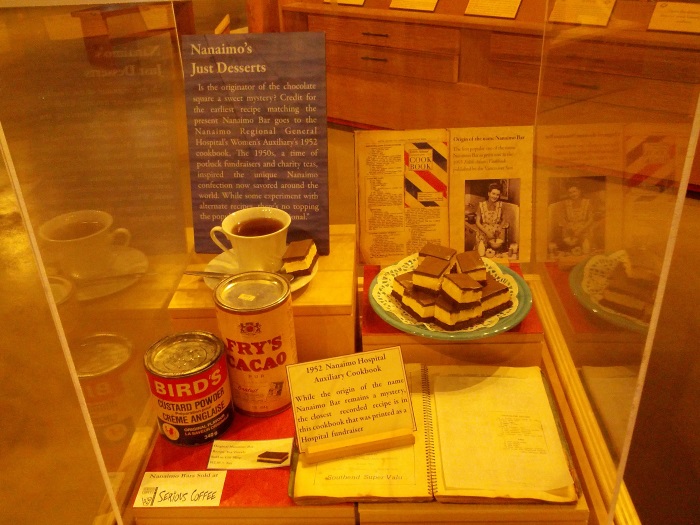 But overall our two day stay reinforced the too-quickly-forgotten lesson that an urban marina is no place to be on a hot summer day.  We should have been swimming somewhere.  The wifi was good, the showers were awesome, and we did manage to get our grocery shopping done and eat some mighty fine meals, maybe the best meals of the trip.  Next time we will do Newcastle, which seems to be the preferred stop for pretty much everyone else.
Food
Kim scouted a restaurant for dinner on the first night, The Firehouse Grill.  I'm a little concerned over the fusion of expected fare such as steaks, seafood, and pasta with…sushi?  Putting Vancouver aside, we go into Canadian restaurants with low expectations, but this one was pretty darn good!  Kim had a steak sandwich which she said was the best of the trip.  I had a It was also good for people watching.  My favorite was the late-30's balding dude clearly on a dinner date wearing a black t-shirt emblazoned with the cheeky statement "WHAT DO WE WANT?  A CURE FOR TOURETTE'S SYDROME.  WHEN DO WE WANT IT?  CUNT."  And they say Seattle diners dress too casually.
Night two we ventured all the way across the dock to Penny's Palapa.  During our whole stay our boat was parked about 6 feet from people eating at Penny's so we knew at a minimum they were popular with the crowds.  And again, Nanaimo surprised us with a great quality meal.  We expect Mexican food in Canada to basically stop at the quality level of the Azteca chain in Seattle.  Platters of fried combination number whatever slathered in cheddar cheese.  Penny's on the other hand does a lot with seafood, and uses cotija cheese, and puts a little jicama in the salad.  These are all good signs.  It was an excellent meal.  Recommend.
Showers
The Port of Nanaimo showers were a revelation so stunning I will come out and say:  every marina should do what Nanaimo is doing with their showers.  At least in the water flow/temperature control area.  The 3 minute duration is pretty bare bones.  I pulled it off but it was definitely a challenge requiring some planning.  One gentleman told me his strategy is to apply shampoo before inserting any coins.  Anyways, the brilliant thing about the Nanaimo showers is that you put your money in and it just turns on with a high pressure blast of perfectly hot water that never lets up.  No knobs means no 20 – 30 seconds wasted adjusting temperature.  They could have a better hook arrangement, and it wasn't until day 2 that I figured out you could take the assisted-living chair thingies into your shower stall to serve as a storage platform, but overall two thumbs up to the Port of Nanaimo on their showers!  Access is tightly controlled via cardkey requiring a $10 deposit.
In Closing
Forecast for the next day looks good for crossing the Strait of Georgia, which is a big deal for us.  We plan to go to Garden Bay in Pender Harbor to check out those oysters on the deck of that pub we heard about from Guy Buell.
Currently unrated
Share on Facebook