Posted by: pat 10 years, 10 months ago
A week or so ago I saw a tweet about Eltana Bagels opening up on Stone Way.  Who doesn't love a good fresh warm bagel?  I'd been meaning to try them out since seeing the tweet.  As I was making my way home from the Center for Wooden Boats' surplus sale, I took a flyer and stopped in.
Just like the Chicken Parm, I have some memories of great bagel experiences indelibly stamped into my psyche.  Above all others I hold the bagel with cream cheese, lox, capers, and red onion (classic!) that I bought at Barney Greengrass in Manhattan when visiting Pat Okell way back, oh maybe 15 years ago when I visited him at Columbia and caught a few Dead shows at MSG.  It cost a bundle, maybe $15, but it was so worth it.   The portion size took the sting out of the pricetag.  That and the top notch fresh products.  It was the perfect bagel experience.  I took it to go and ate it in Central Park.  Quintessential Manhattan bagel experience.  When we took the family to New York last spring we made sure to hit H&H.  It was good too.  I'm no bagel connoisseur, but I do know what I like.
So, Eltana.  Now that I am home and digesting the bagels, I look at their web site I see they make "Montreal-style" bagels, whatever that means.  A quick check of Wikipedia reveals that this is indeed a thing.  Is Seattle so flush with great bagels that we need "Montreal-style" bagels now?  
I also see the Wikipedia page reveals that Montreal-style bagels are small.  Yes they are indeed!  These things are tiny.  At first when I walked in I thought "how cute, mini-bagels...OK where are the full size ones?" only to find that this is it.  Unfortunately the prices are not commensurately diminutive.  A buck a bagel.  Baker's dozen for...I think recall it being $11.50.  Spreads from $4 to $10.  So a half dozen bagels and two spreads ran me a little over $20.  Not exactly a cheap treat, but it won't break the bank.
Just so you know what you are in for, here's a photo with a container of yogurt for scale: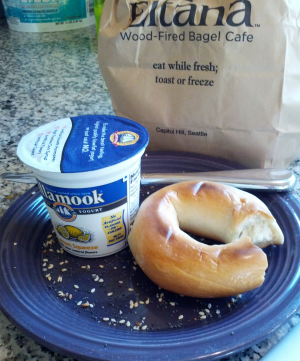 The bagels that were clearly fresh and warm were a delight.  Nice and crusty on the outside, soft but well cooked on the inside.  
The problem is that despite stopping in at 9:00 AM on a Saturday, which I would think would be pretty much one of their peak time slots, only one of the three varieties of bagels I bought were actually fresh.  The poppy seed and plain bagels...I hate to say it but they seemed like they might even have been day old.  Not delightful at all.  What is the COGS on one of these mini-bagels anyways?  A nickel?  Fifteen cents?  They can't afford to toss them (or donate them to a soup kitchen) once they cross the "not so fresh" line?  
If you go, watch for the dude pulling fresh bagels from the oven and buy those, not the ones that were sitting around.  Don't count on them to actually be serving fresh bagels just because you came in on a weekend morning.
And I had to eat three of them because they were so tiny.  I asked the friendly guy at the register why they were so small.  His response:  "gosh I don't know.  A lot of people ask that!"  Hmmm...OK...I guess he has never seen that Wikipedia article about Montreal-style bagels.  Or received much of any training on the product he sells.  Here's a tip to artisnal food producers:  when your product is something nobody in your market has seen before and is counter to most everyone's expectations when they come in the door, it might be worth educating your staff with a little "Frequently Asked Questions" knowledge base.  I guess even in "this economy" it is hard to find good staff.
One more thing that I hope they correct is that they are too hard to find.  When you are a retail merchant, what do you want?  People to come in the door and BUY.  So, make it easy for people to find you.  Their web site lists the hours for each store, but you have to dig a bit to find the address.  Why don't restaurants and other food retailers put their address right on their home page in a prominent location?  You can find it on the "Contact" page, and embedded in the content of an article announcing the opening of the Stone Way store, but that is too hard when you are in your car parked on the side of the road looking for this one...vital...piece of information that is required for me to give you my money.  Then when I get to the location there is practically no signage, just a small temporary banner that barely catches your eye from the street.  Well, good luck with that!
tl/dr:  nice tiny bagels that are good when fresh and otherwise nothing special and overpriced.  
Currently unrated
Share on Facebook