Posted by: pat 10 years, 9 months ago
Time for another sampling of cheap Italian takeout!
This week's sample comes from Alberona's Pizza and Pasta. I've driven by this place on Leary a million times but had yet to try them. Something about the building location and appearance was a bit off-putting, but a review of the menu puts it squarely in the target zone for my ongoing Chicken Parm research project. And I had a coupon!
I bought an Entertainment coupon book from the boy who lives a couple houses down. He was selling it as a fundraiser for the Ballard High School Academy of Finance. I remember these coupon books being more expensive, but I think this one was only $30 or maybe $35. So far I've used the Cupcake Royale coupon, the Luisa's Mexican coupon, and two Bartell Drug coupons. I think the Alberona's coupon is putting me over the top on recouping my investment, so now it is all gravy baby!
I mention the coupon because it was a little bit of an issue. It was a dark and stormy night and I didn't even feel like driving the mile to get to one of these pseudo-Italian joints for takeout. In the Entertainment coupon book there are coupons for Razzi's (an old stand-by), Olympia in Wallingford, and Alberona's. Alberona's was the only one that did not specify "dine in only", so it was the winner. In fact it clearly says "VALID ANYTIME" with no exclusions whatsoever: buy one entree, get one free, value up to $12.00. I ordered online: one pizza for the girls, Puttanesca for Kim and a Chicken Parm por moi. About 5 minutes later the phone rang. It was Alberona's asking about the coupon, with an assertion that it says Dine In Only. I replied that no it did not say that, and Alberona's said Ok they will honor it. This made me a bit grumpy. They should know what their coupons say.  Alberona's if you are reading this, know that the lack of a "dine in only" restriction on the coupon was definitely the tipping point for getting our business.  Otherwise I would have ordered from Razzi's.  Given that we had a good experience, we will be back to pay full price!  
Another nitpicky thing is the handling of side dishes. Apparently at Alberona's garlic bread is a side dish. On our entrees we had to choose a side dish: bread or salad. WTF? I award a point to the old standby Razzi's for including garlic bread in every entree plus either soup or salad.
Delivery was late. I ordered at 5:20 and delivery was predicted for 6:12 and actually happened around 6:20. Not so bad I guess. I have the guy who delivered my coupon and he did a quick $12.00 deduction from the bill and swiped it on his Stripe iPhone thingy, which seemed pretty flaky. It took about 5 minutes.
Anyways, the food.
The food was pretty good!
The pizza was lame, but that is par for the course from this type of restaurant. Don't patronize them for the pizza when there are so many better choices. The pizza is strictly an appeasement for the children.
The side salads had very fresh and crispy romaine with no outer leaves evident.
Kim enjoyed her "puttanesca" -- note this is the Greeky-puttanesca you get at these places.  Usually tortellini, usually includes artichoke hearts, and strangely it seemed to have some pesto involved.  Maybe it was all a mistake, but I sampled some of it and it was tasty.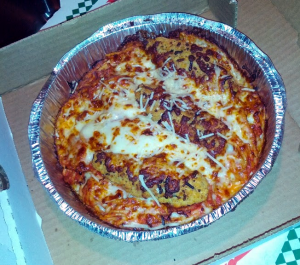 Chicken Parm was also good.  Presentation doesn't count for much.  As you can see it is pasta, sauce, some breaded/cheesed up chicken, in a foil container and broiled.  But it was pretty good!  The chicken was very nice.  very light breading, with a decent cheese presence.  The pasta was a plain spaghetti.  I like it when there is an option for whole wheat pasta, but otherwise this was a good preparation of the dish, and the portion was enough to save 1/3 of it for lunch the next day.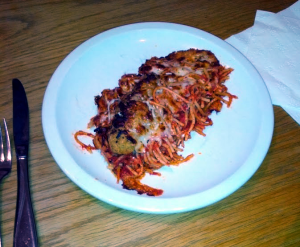 Currently unrated
Share on Facebook