Viewing posts by pat
Posted by: pat 3 years, 7 months ago
I've been working the New York Times crossword puzzles off and on over the last month or so.  Cathy got me into it via her obsession with the Hocus Focus and Wonderword puzzles.
Today I am proud to announce I have completed my first ever newspaper crossword puzzle!  One step further away from dementia...
OK, so it is only the Monday crossword.  And Kim gets credit for giving me Sarasota to break through the last logjam.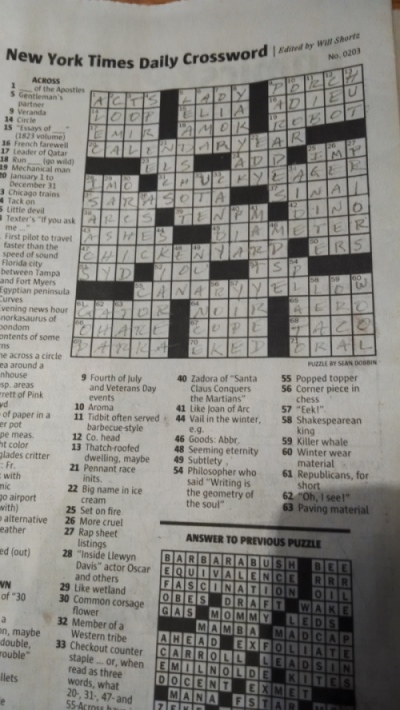 Posted by: pat 3 years, 8 months ago

We steamed north with a destination of Tenedos Bay.  Tenedos would turn out to be our favorite anchorage of the trip.  It was spectacular and very rewarding to pull around the corner of Sarah Point and into the entrance of Desolation Sound.  The mountains were beautiful, rising straight up from the water and revealing peaks like we see on the North Cascades Highway.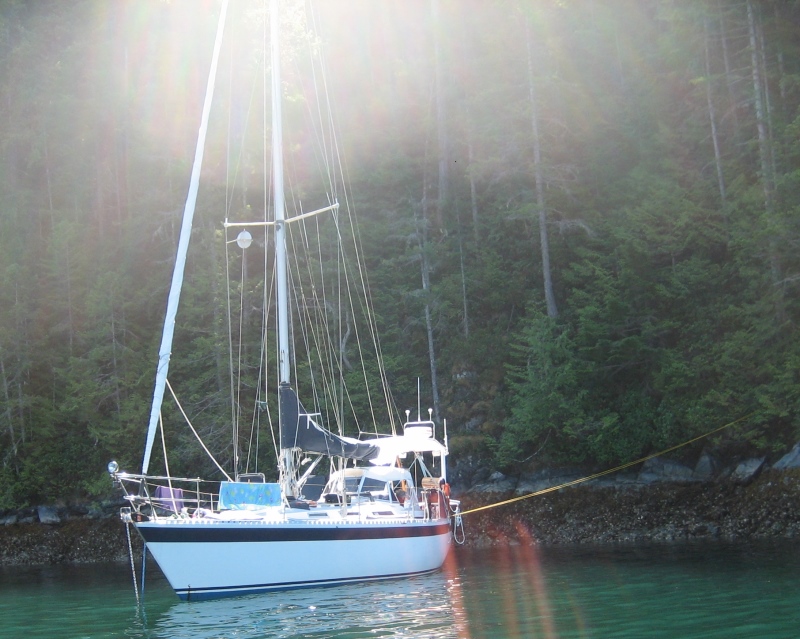 Tenedos has several spots where you can anchor, but much of it is quite deep.  I knew we wanted to avail ourselves of the excellent swimming in Lake Unwin so sought out a spot near the trailhead.  The prime spots right by the trailhead were taken and I ended up trying to anchor on the south side of the bay.  The Rocna bit in and set well in about 100 feet of depth only about 75 feet off shore.  We backed down on the short scope and I paddled in to shore to attach the stern tie.  The water was quite clear and packed with jelly fish.  I sliced my foot a bit climbing up over the hordes of 8 – 10 inch oysters caking the rocky shoreline.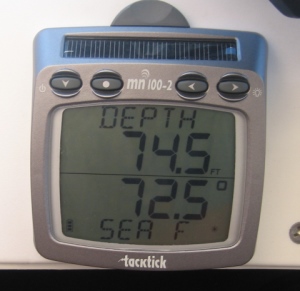 There was a bit of a breeze so we hung out to make sure the anchor was solidly holding us while we swam and enjoyed lunch.  The water temperature was a very pleasant 72 degrees F.  We were entertained by a small hobie cat that zipped around the bay in the breeze and planned our trip to the lake.
Lake Unwin is a huge and excellent swimming lake.  There are many spots where you can clamber down from the trail that goes along the shoreline and find a private rock or beach to enter the water.  It is very warm and clear, and with the ability to spread out it does not feel crowded at all.  Despite the fact that there were always half a dozen dinghies at the trailhead, we never had to share our space with anyone except when we were lazy and took the first prime rock right at the point where the trailhead hits the lake.  Don't try swimming near the big log jam where the trail hits the lake:  take the trail to the left and make your way to a sunny rock where you can swim.
The one thing to be aware of that I did not see on our first excursion to the lake is a sign advising that the use of soap in the lake is forbidden.  There are a few bathing holes in the stream that spills from the lake into the bay where you can bath, but they are tricky to get to.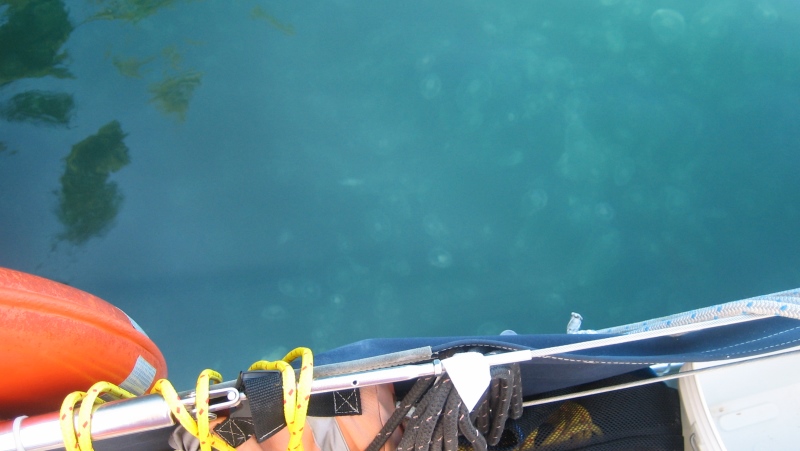 The girls nicknamed Tenedos Bay "Jellyfish City" due to the thousands of white jellies floating all around us during the day.  Strangely, in the morning they were all gone.  Maybe it is a tidal thing.  They were benign and politely remained at about 12 feet and deeper, below our normal swimming range.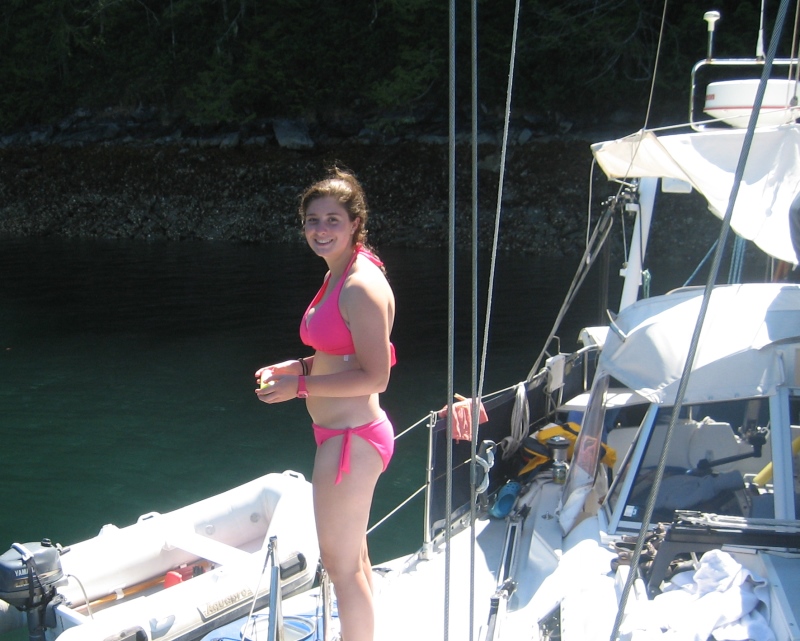 We spent the day swimming.  That was pretty much it.  And it was very good.  We probably all clocked several hours in the water.
One piece of marine excitement was the failure of the electric water pump while I was doing the dinner dishes.  This is the pump that drives the water pressure for the galley and head sink.  But like a good Eagle Scout, I was PREPARED!  Several years ago I had purchased a spare pump which had sat quietly waiting at the ready for this moment.  After about 30 minutes I had the swap complete and we were back in business.  Then I just had that uneasy feeling when the department of redundancy department is empty…what if the new pump should fail now?  The galley does have a decommissioned manual foot pump that I have ignored to date but which occurred to me might make a viable last-ditch backup option.
Of course gloating over this has jinxed it.  The day after I wrote this blog post I was at the boat working on the holding tank when the water pump went haywire.  I wasn't sure it was the pump.  It just ran slowly non-stop.  It could have been a leak but I couldn't find one, so I tried swapping it with my newly procured spare which worked perfectly.  Maybe the o rings in the spare pump had dried out while in storage, or maybe something cracked in this last bout of hard freeze weather.  It does seem uncanny that it gave up the day after I put into words my hubris for spare parts provisioning.  I won't even mention the other spares I have on board for fear of a similar curse.  I do now have three of these water pumps in different states of working and not working, so I console myself with the thought that I am now in a perfect position to disassemble and bench test the broken ones to determine if they are fixable.
Kim also observed that the fridge didn't seem as cold as it should be or had been in the past.  She has a bit of a thing with the fridge.  Food safety is one of her hot buttons, as is having a disciplined system of food storage.  It was still operating but I agreed it seemed to be having trouble keeping pace with the hot weather.  I assured her that this didn't need to threaten the trip and we could just supplement it with block ice at our next stop, Refuge Cove.
Posted by: pat 3 years, 8 months ago
It has been a while but I'm going to pick up this slowly developing marine travelogue again with our journey from Garden Bay to Lund.  We got off to an early start that should put us into Lund around 1:00 PM.  It was clear it was going to be another scorcher, and very calm once again.
We passed an interesting sight a few miles out of Pender Harbor.  Someone must have bought a small covered dock second hand and was moving it to its new home.  The manner in which it was being moved was striking.  A small boat with an outboard was docked in the slip of the dock and was just motoring the dock north up the coast.  First time I have ever seen a dock under way.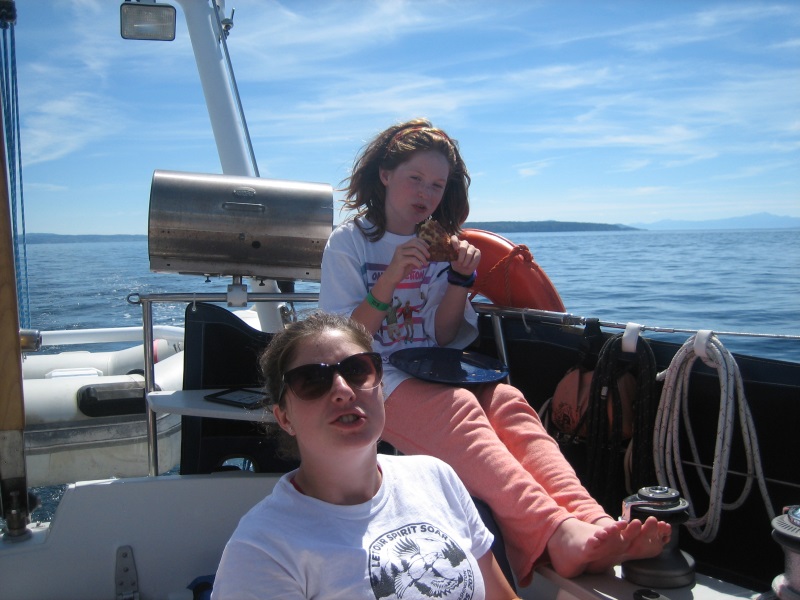 The journey was a bit boring and hot.  We motored north up the entire length of Texada Island, passing many of the danger and ditch spots I had carefully researched while planning the trip.  We are looking forward to the passage making days coming to a close, and are grateful for the lack of weather drama.  As we passed Powell River I recalled that Pat Okell had told me his brother Cam and family would be at the family beach cabin during our trip, so I got him on the phone to see if he could meet up with us.  Cam had other plans but I spoke with Rob, the elder Okell, about connecting with Pat and family later in the month.
I know to date these little updates on our cruise have been a bit of a whingefest with the complaints about this and that, but I have very little in the way of complaints about Lund.  We ended up spending more nights in Lund than any other spot on this trip.  We didn't plan it that way, but there are certainly many worse ports to end up spending unplanned time.  So please excuse me while I sing the praises of Lund!
First the marina.  The marina is in exceptional shape with nice wide docks, pumpout on the dock, plenty of marina-provided hoses and fresh water, nice wood steps available for use by visiting boats for boarding, very friendly and professional dock staff, and clean but busy washrooms and showers.  Wifi is pretty poor at the dock, but is good at the bakery on shore.  Rafting is mandatory, but we avoided that indignity on our initial visit.  The showers are 4 minutes for 2 loonies.  The marina has all of the amenities you need with none of the frills.  I always enjoy our stays on public docks in B.C., it feels like you are more connected with the community and nature when sharing dock space with locals and the local commercial fishing fleets.  
You look right out over the floating breakwater at the Strait and Savory Island.  It is a busy little harbor with constant comings and goings and lots of interesting boats to check out.  There are a couple water taxis that buzz campers back and forth from Savory Island.  The one thing it lacks is a good swimming option.  Swimming in the marina is not a great idea what with the electrolysis risk and general hazards, and it isn't exactly a park-like location.  It is pretty much right smack on the strait.  It was quite hot by the time we were tied up and squared away with power connected, water tanks filled, etc. and I was drenched in sweat.  Kim was getting worried I might expire from heatstroke and offered me a dockside hose drenching.
What with the Nanaimo liquor store being shut down from on B.C. Day, it was a huge relief to finally be somewhere I could restock the beer and liquor cabinets.  Bear in mind this is after I was a good citizen and kept our beer and liquor inventory within the customs limits while crossing the border.  I was down to maybe my last 6 pack of Fremont Interurban IPA and ready to stock up on Molson Canadian ($64 for a 30 pack!) when I saw the "artisan IPA" 6 packs in the fridge room at the general store.  I threw a "tester" 6 pack into our basket to see if it passed the test of crap Canadian craft beer.  There was a toothless local behind me in the checkout lane who saw my beer selection and declared "That stuff should be mandatory eh?  Oh yeah it's an IPA.  Should be served at 5C or 41 Fahrenheit."  Do Canadians do Celsius to Fahrenheit conversions in their heads?
On day 7 our laundry bag was starting to fill up so we were eager to do a few loads of laundry.  Elizabeth toted the bag up to the laundry room (she wanted to use the superior wifi signal on shore to Facetime some friends) and found...the power had gone out!  A fellow laundress informed us it was a 1,000 home outage and could take hours, explaining that it is "an end of the road thing."  She also told me that she had just moved from Cortes Island and felt like she was in the big city now (haha!) and that on Cortes they are accustomed to the power going out for days at a time.  Lund is famous for being milepost zero on the road that goes to the end of Chile.  After the power came back on we had to play musical chairs with the dryers to get one that would actually dry our load.  After my 3rd visit to the hotel's front desk to get loonies for the dryer I mentioned this and received the sympathetic response "yeah…our dryers are really not very good."  Thanks for the sympathy…now how about getting somebody to fix it?
The other nice thing about Lund is...we are DONE with long passages.  From here on out (until I do the return trip with Greg and Katherine) all of our trips will be in the range of 3 or 4 hours.  We are inflating the kayaks and getting ready to go on "island time" with leisurely meals, lots of swimming, exploring the little coves and inlets, and not stressing about the straits or Whiskey Golf.
Food
I did a recon mission to the Boardwalk Restaurant.  It is supposed to be local seafood and advertises that it offers "more than just fish and chips."  A look at the menu corroborated this claim.  Barely.  They also have some burgers and...maybe a hot dog.  The Lund Hotel had a much more extensive menu, and we figured we could get the wifi password so we went there.  It was a little underwhelming.  Kim rated her steak sandwich as the fourth best out of the three she tried that trip.  The chowder was a bit anemic and lacking in much rich flavor.  I can however recommend the Lund Burger without reservations.  Very nice with cheddar, bacon, and mushrooms.  And the girls found the ice cream pie transcendant, earning Lund "favorite spot" status with Cathy.
Washrooms and Showers
There are two private washrooms with showers.  They run for 4 - 5 minutes for two loonies.  The shower stall in the washroom on the left is quite large.  Two people easily fit in them, and I saw many couples going in together.  The shower ran long, much longer than I needed.  I just ran it on cold to cool down at the end.  Very nice and very clean.  The one thing I would change is to get rid of the carpet floormats outside the showers.  They were soaked through and not very appealing.  You don't have carpet in your bathroom at home do you?  Get the Entworks woodworking dude who is on the boardwalk to whip up a couple of nice cedar grates for the showers.
Posted by: pat 4 years ago
Summary
Problems with Washington state's health exchange website go much deeper than the obvious error messages, slow performance, and overwhelmed customer service staff.  By failing to even ask applicants for all relevant components of income, the site is rendering invalid eligibility decisions and tax credit calculations.  It is automatically enrolling too many people in Medicaid and it is telling them to expect tax credits that will need to be repaid when 2014 taxes come due.  In order to correct this, the site will probably have to make everyone who has applied for coverage re-apply once they fix the site to accurately collect all required components of household income.
What's being reported
If you read the articles in the press, you might think everything is dandy with Washington's health exchange website.  Sure the site was so slow and bogged down that hardly anyone could log on in the first few days, but those problems are thankfully behind us.  If you read the posts on the site's Facebook or Twitter pages however you still see many people complaining about persistent "3000" series error messages preventing them from completing their applications, or the persistent challenge of reaching anyone in the customer support organization.  Whereas in the first few weeks you could call customer support and hear a message telling you the current wait time is 90 or more minutes, now the message just says they simply cannot accept your call now.  Email support is inconsistent, with no ticketing system in use to acknowledge receipt of your request and random response times varying from a few hours to never.  But at least we can log in and complete an application (most of us), as opposed to the poor saps who are trying to do anything on the Oregon site, or the Federal site that many states share.  This brings up another question I won't address, which is why did we even let states build their own exchanges?  I suspect that gets into politics and rent seeking behaviors on the part of lobbyists trying to get their piece of the ACA pie, with a little bit of Not Invented Here syndrome thrown in for good measure. 
These are all problems that are obvious to anyone who encounters them.  You know when the system gives you a cryptic error message that it isn't working.  You know when you can't get an answer to your questions that things aren't operating as expected.  And to be honest I'm OK with this level of problems.  Any new big system like this will have a tough launch.  Could they have done a rolling launch or Beta period to mitigate these risks?  Probably.  Could they have done gold-plated stress and load testing to avoid them?  Probably.  Would it be worth the up-front cost?  Maybe not...sometimes it is cheaper to just take your lumps and fix things as opposed to taking 10 years and even more $billions to build something that works perfectly on day one.  I am OK with the government trying to make smart decisions about value for money and not always paying the big bucks to achieve a perfect launch...if that's indeed what they did in this case. 
There is a second order set of defects with the site that go much further than these obvious issues we've heard about.  These second order problems are insidious in that it is impossible to know the scope of their impact, but I will go out on a limb and predict that every single application will need to be revisited to correct them.
Missing data leads to bad decisions
The problem is that the site is not asking applicants for all of the information about income and deductions that it should.  This I know for a fact from my personal experience, and it has been validated by an employee at the state Health Care Authority who confirmed that the site fails to collect all of the income and deductions required to make its decisions about eligibility and tax credit amounts.
The Affordable Care Act requires Medicaid eligibility and tax credit decisions to be based on your household's Modified Adjusted Gross Income (not just adjusted, but modified too!) which sounds complicated but really boils down to taking line 37 from your form 1040 and adding a handful of things back in.  The best definition of this is this one-pager from the Berkeley Labor Center.
The site is very specific when it asks you for income.  You need to list each employer with their address and your income from each employer.  You need to tell it about self-employment income and dividend income.  It asks for information about how much we contribute to our Health Savings Account.  When something is this specific in asking for things, in general most people do what it tells them to do.  We know it is a complicated process (otherwise why would this site have required paying the good people at Deloitte over $50 million to build it?)  We know it will pull in past and future actual tax returns to its decision algorithm.  So we plug in the exact numbers it asks for and let it do its thing.
"Do you have insurance?" or how to incorrectly ask a simple question
When I first went through the application I was concerned about one question which asks "Does anyone in your household currently have insurance."  Simple question, right?  Yes, we all have insurance that we pay for out of pocket and purchase directly from Group Health.  You would think I should answer yes to this question.  Clicking the little question mark next to the question to reveal the help text shows that the definition of insurance for this question is very narrow and does not include self-purchased insurance.  The help text clarifies that the question is asking if you have "private insurance provided by an employer, Medicare coverage, Tricare or other veteran's health insurance."  None of those describe our situation, so I am tempted to say NO, but I went ahead and answered YES for the moment.  Strangely this resulted in a decision that nobody in our household qualifies for any tax credits or Medicaid event though the income calculation from the site for our household falls squarely into the "should get a big tax credit" range.
I was later told by customer service, via email, that I should answer NO on this question if our current insurance policy expires on December 31.  Our experience with Group Health is that our policy ALWAYS expires at the end of the year.  Every year we get a letter saying "your policy is being discontinued.  please choose from the following policies all of which provide marginally worse benefits at significantly higher prices."  I change my answer to NO and resubmit the application and now get a huge tax credit, and another surprise.  Based on my application, our daughters are now automatically enrolled in Medicaid, or Washington Apple Health as it has been re-branded.  Effective today.  That was a shock.  I've never paid much attention to Medicaid, never wanted or asked for it, and now my children have no other choice but to be in the program?  Within a couple of days their Medicaid ID cards arrived, so that part of the system is working pretty effectively.  I was told by customer service that I could pull them out by calling DSHS but then I would forego any tax credits.
I didn't lose too much sleep over this however because I knew that the eligibility determination was wrong.  The income the site calculated for our household was low.  Way low.  Garbage in, garbage out.
This question is very poorly worded, and given the impact your answer has on the eligibility decision, this is a pretty high impact defect.  I am sure that many people in situations similar to mine are answering it incorrectly.  Many of the self-employed, who are one of the primary targets of the ACA, will be buying their insurance directly today, will answer this question YES, and will be incorrectly denied all tax credits.
What's Missing?
For our particular situation, the site was missing two very large components of the calculation for form 1040 line 37:  capital gains and our self-funded traditional IRA contribution.  Granted, the IRA contribution serves to reduce our MAGI, but still it is a big number that should be included in the calculation.  The omission of capital gains is a huge gaping hole in the calculation (for us at least).  I am sure that for 2013, including the capital gains will push us definitely out of Medicaid eligibility, and probably reduce most of our tax credit.  There are other things missing too.  For example I was never asked about interest income either.  It is not such a big number for us, but it is non-zero.
After not hearing anything back for days from customer service via email, and hitting the constant "we can't even let you wait on hold" message on the phone line, I fired off an email to every relevant email address I could find on the state's Medicaid web site.  Finally I received a response confirming that they found the same thing I did with the incomplete collection of income data.  I was given some instructions for plugging the capital gains into the space for reporting "pension, military retirement (not disability-related) or monthly annuity or IRA income."   Clearly this is a workaround.  I was also told that the IRA contribution is collected under the prompt for "spousal maintenance, monthly interest on student loans, moving costs since January of current year, or pre-tax retirement account payments, excluding Roth IRA contributions."   I guess I was looking for the magic IRA acronym rather than calling it a pre-tax retirement account payment.
At this point, the couple of specific issues I've brought up have been acknowledged.  I am sure they will get them fixed within a few weeks.  A bigger question is "what else?"  The problems I've brought up were very very obvious to me.  They should have been obvious to anyone who has ever looked at the first page of a form 1040 and all of the components that go into line 37.  What else is happening that is not so obvious but also wrong?
Why this might be a big deal
We now know for a fact that the site is not collecting all of the information it needs to, but it is still rendering eligibility decisions about Medicaid (including the surprise auto-enrollment) based on this incomplete data.  Due to the nature of this error, it is usually going to result in an income figure that is too low.  This will result in more people being auto-enrolled in Medicaid, and more people being told they will get bigger tax credits than they actually will when they file 2014 taxes.  Remember the tax credits are given in advance, but once you file your 2014 income taxes they will get re-calculated and trued up.  If your actual 2014 income comes in higher than the site's calculation based on your application's incomplete data, you will have to repay much of the tax credit.
Another angle on this problem is that at some level the tax credit masks the cost of the policies you are shopping for.  The credit it gave us was so large that it made both the bronze and silver plans appear to be zero cost.  Why wouldn't you choose the better silver plan when given this choice?  The problem comes when your tax credit has to be paid back and you bear the true cost of that higher priced silver plan.  Once you get a tax credit, the site won't even show you the base price of each plan, only your price net of the tax credit.  
I don't see any way to fix this other than to make everyone who completed an application re-apply.  That will be a little embarrasing for the state Health Care Authority.  Public reaction won't be favorable given that the result will be people who thought they were on Medicaid being kicked out, and people who thought they were going to get free or low cost health care paying more.
All of this begs the question of what other defects lurk waiting to be found.  Given these glaring obvious defects in the site, and given that we know it was never fully load tested prior to launch, how can we have any confidence in the quality assurance that went into this complicated site?
Why this might not be such a big deal
Our family tax situation is atypical.  If all of your income is on a paycheck and W2 then the site is probably doing everything correctly for you.  Low income households don't usually have capital gains, interest income, or make IRA contributions.
On the other hand, the self-employed are supposed to be a significant portion of the target audience for the ACA, and many of them will have complicated taxes as we do.
The problem is it is impossible to know the scope of the missing data, which is why I believe everyone will need to re-apply.
Why do I care
I want to see the ACA succeed.  I want to personally benefit from the improved benefits level it mandates.  I want to get rid of the fear of being denied coverage due to pre-existing conditions.  I want for everyone in society to have lower cost health care options than the Emergency Room and to have access to preventive health care at low or no cost.  I have faith that as we eliminate the uninsured problem and get everyone into bigger shared risk pools with better access to preventive care and care of chronic conditions, systemic health care costs might get under control.  I want to eliminate the chilling effect on economic innovation that is currently caused by the prospect of giving up employer-provided health care and having to go it alone in the individual market.
That's the big picture.  At the margin of deciding what the James family is going to do for 2014, we need to choose whether to renew directly with Group Health and ignore the ACA health exchange and potential tax credits vs. taking a flyer on this new and known-to-be-faulty program with the hope of saving a few dollars.  We are committed to sticking with Group Health because we like it.  Heck, I've been under their care without interruption since about 1970.  The problem is that we also really like our Health Savings Account.  We like that it puts us in touch with our health care expenses and the value we receive for them, and we like the ~$6,400 tax deduction for our annual contribution to fund it.  All of the exchange plans are high deductible plans, but Group Health for some reason took the anti-consumer approach of only offering HSA-eligible plans direct, not through the exchange.  A customer service person at Group Health actually told me that this is because the health exchange is "just for low income people" who can't put the money together to fund an HSA.  Suspecting this was a fabrication, I asked again and was later told that the Washington State insurance commission told Group Health to only offer a limited set of plans in the first year.  Lame.  Especially lame given that the reason you go through the exchange is to get tax credits, and tax credits are maximized when you reduce your income, and one way to reduce your income is to contribute to an HSA.  Anyways, we are right at the margin (I think) of where this is a challenging decision to decide what is better for us:  go it alone with an HSA and buy direct, or forego the HSA, buy through the exchange, and hope for a tax credit that makes this decision worthwhile.  As I currently lack any confidence in the exchange site's accuracy at forecasting tax credits accurately, I think we will probably buy direct from Group Health.  It might cost us a few dollars, but that might be worth it to sit out the first year of the massive headache all of these problems trying to apply through the exchange are causing for us, including the prospect of having to update the site with our income on a monthly basis.
Am I overstating things?
Maybe.  Not everyone has capital gains, or interest income, or foreign earned interest or the other things the site never asks you for but it should.  There is also that "do you have insurance" question that is way off.
Maybe this is all normal growing pains, the things you expect from launching a big software application (a big application that is being redundantly implemented across many states).  Maybe it will all be sorted out within a month.
Maybe the state won't make everyone re-apply and just take their lumps when they file 2014 taxes.
Maybe the tea party won't make hay on these problems and use it as fodder for the "kill Obamacare" arguments.  This has all certainly been a case study in how our government fails us.
Lots of maybes.  OK that is all.
Posted by: pat 4 years ago
Heading out from Nanaimo to cross the Strait of Georgia you need to check the status of Whiskey Golf.  Whiskey Golf is a test range where the navy conducts torpedo test firing.  If it is active, and you will never know until the day of, then you need to make a significant but not debilitating detour around it.  For some reason this is not universal common knowledge of boaters transiting the area, as evidenced by the VHF traffic where the navy is attempting to hail pleasure boats in risk of being torpedoed.  The day we head out it is inactive so we are good to go.
We are very fortunate on this trip in that we encountered flat seas on both of our days in the thick of the strait, or "the monster" as some call it.  The monster was pretty much the most-studied element of my trip planning.  It represents Mother Nature at her most unbridled and capricious self.  The potential risks and dangers in the strait are part of what makes this trip not just a vacation but an adventure.  I scoured blogs and guide books for tips and tricks, places you can get out of bad weather, criteria for deciding to go up the west side vs. east side, choosing which side of Texada to take, the little protected anchorages at Lasqueti, how to cross the Comox bar, where the tide rips are worst for current vs. wind, dangers posed by the ebb out of Jervis Inlet hitting contrary wind, where can you get mechanical assistance, and on and on.  Good knowledge to have at the ready, but for this trip it was completely superfluous.  That's OK.  This Eagle Scout learned his lessons well to Be Prepared.
The day was hot and calm.  The water in the middle of the strait was a remarkable 65 degrees F.  There is talk of just idling in the strait and going for a swim.
In the interest of family harmony I decided to add another day to our transit to Desolation Sound.  Our itinerary now runs from Nanaimo to Pender Harbor to Lund to Desolation Sound.  This adds one day and reduces some of the longer transit times that can be wearisome for the family.  The risk factors of adding another day working our way up the Strait of Georgia are mitigated by the fair wind forecast.  Steaming up from Nanaimo we had negligible wind and fairly flat seas, and the forecast is for more of the same.  Quite a contrast from the 25 - 35 knot conditions I encountered crossing from Silva Bay to Nanaimo with the grandpas a couple years ago.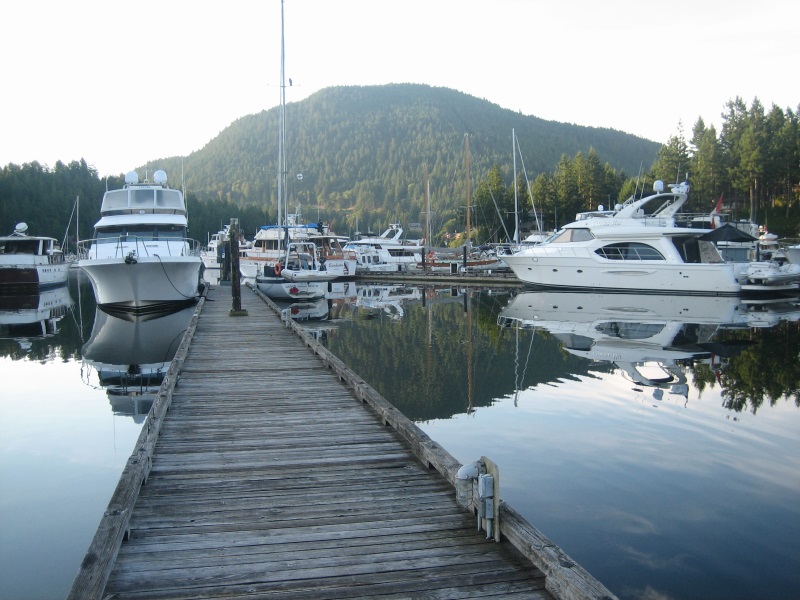 When we were at Hudson Point on day 1 of the trip we ran into fellow Wauquiez owner Guy on Airfare.  I chatted with him for a bit about our trip and he recommended Pender Harbor as a great place to duck out of a blow in the strait.  Well we didn't have a blow today, but Guy's tales of fried oysters in Garden Bay wouldn't vacate my head, so here we are!   I never got the actual name of the place but the description seemed to match what the Waggoner says about the Garden Bay Pub and Restaurant and Marina so that's where we go.  Turns out no fried oysters.  Must be some other place in Pender Harbor. 
Pender Harbor is fascinating as it is composed of probably 6 - 8 separate moorage opportunities plus well sheltered anchorages, and maybe half a dozen restaurants and other businesses.  We moored at the Garden Bay Pub.  The pub was a delight with a nice IPA on draft and solid wifi.  It had the vibe that I associate with a thriving local pub, including that BC phenomenon the weekly "meat draw."  From a moorage perspective it is a bit meh.  The wifi does not reach the docks even with my new super-duper antenna, and the washroom/shower situation is so-so. 
The shower is OK but it is one of those situations where there are just two washrooms, with shower, for the whole moorage.  So if someone is taking a shower they are also monopolizing a toilet.  Not a big deal on our visit as there were only maybe 4 other boats at the dock.  There is a curious sign in the washroom stating "In consideration of your fellow boaters, please use your towel to dry the sink and floor after using the shower."  Excuse me?  Maybe you have mistaken us for the RVYC crew next door who I am sure have laundry servants and racks of dozens of towels.  On my boat, I have a towel for showering and a towel for swimming, and I ain't gonna use either of them to wipe down the floor of the marina washroom!  I'm also unimpressed by the lack of door code synchronization.  What possible good reason is there to have each of your two washrooms on a different door code?  Contrast this to Fisherman's Resort where not only are the codes in synch, but they also are in the form of a clever mnemonic.
We dinghy over to a fairly rustic provincial marine park about 50 yards from the dock.  We tie up at a nice flat rocky area.  Tons of oysters.  The water is warm, about 67F.  We have a great swim.  Two dudes come in on their small sailboat, anchor about 50 feet out from our spot, and dive in for a swim.  We think we should be anchored here and swimming from the boat.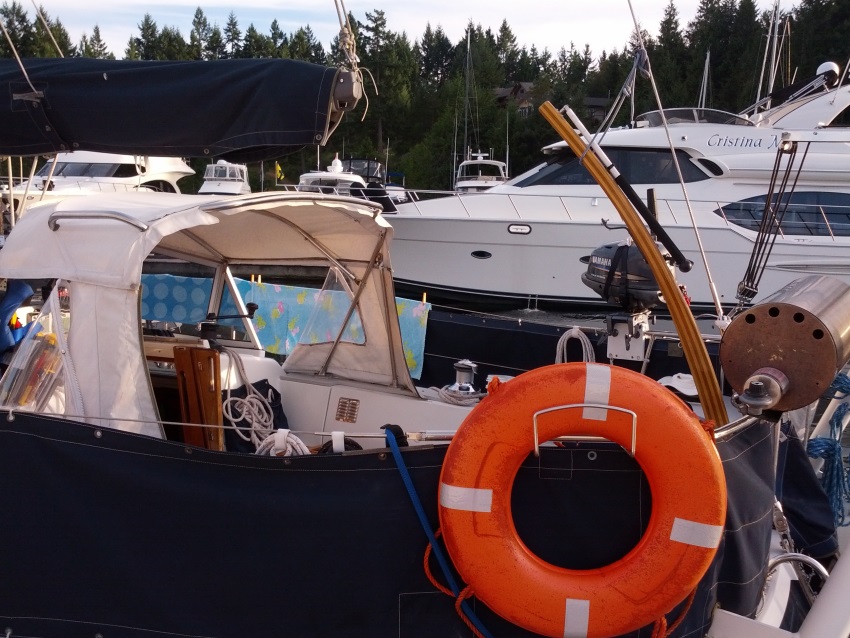 Pender Harbor is home to a couple yacht club outstations.  The Royal Van and Seattle Yacht Clubs both have outstations here.  We were tied up directly opposite the RVYC outstation docks, which while not full had probably 20 boats tied up, probably more than half being in the $ million + 60 foot + powerboat class.  Directly across from us was the Cristina Mia (love the zebra skin upholstery!) which spent hours just pissing gray water over the side.  I guess it was shower time, or laundry or something.
What is it with powerboats and discharging waste water above the waterline?  So noisy and disruptive.  Cristina Mia dumped water literally for hours, spouting from two discharge ports about an inch in diameter a foot above the waterline like a fountain.  I would have had to fill my tanks over and over to dump as much waste as they did.  It wasn't soapy or scummy so I guess they have some filtering or processing on board before discharging it, but it still seems like such a waste...and why exactly can't it discharge below the waterline where it is silent?  I am going to assume there is a solid engineering design reason for this I guess.  Could it be seawater cooling discharge from a genset (but they have shore power here…)?  I guess I don't know enough about the systems on big power boats.
Back to Pender Harbor observations.  If you visit, do not underestimate the impact of the outstation crowds!  Maybe I shouldn't be watching Below Deck while on this trip, but the RVYC families we ran into while dining at the Garden Bay Pub/Restaurant were a little bit too "right out of Below Decks guests casting."   Petulant coiffed children whining about the wifi while trying to look as sullen as possible and dads with way too much hair gel and cologne.
Actually, before we settled on the Garden Bay Pub/Restaurant we made our best shot at trying the burgers and milkshakes at Laverne's Diner.  I did a recon mission to check it out earlier and noted the unusual signage indicating that they could not guarantee they can serve you if you show up an hour before closing, closing being at 7:00.  Got it!  Show up before 6:00 to be served.  Whatever.
So we show up at 5:45 and are told...oh sorry eh!  We get so many phone orders we can't serve people who actually appear at the restaurant hungry.  For a burger.  I guess this is what the sign was about, but maybe you need to show up 2 hours before closing to get served, or get with the in-the-know crowd and phone your order in when you get up in the morning.  Disappointing, but I guess you have to sympathize with the business owners who get inundated by....I am only going to assume it is the RVYC outstation gang again.  I've made up this story in my head where everyone from the RVYC hops north in the summer, and they always stop here at the outstation because wouldn't you?  That's what you are paying for in these clubs, better use it.  So they stop here year after year and develop routines, including the traditional takeout dinner from Laverne's.  Over the years this becomes such a "thing" that you need to phone ahead to have a prayer of dining at a normal dinner time.  What would you do if you ran that business?  Turn away some phone orders to accommodate some walk-ins who may or may not show up?  Reserve some capacity?  Just make the staff stay while you are bringing in cash?  That last one is what I would try...give them a bonus for staying late and make hay while the sun shines.  It must be a really tough challenge running a small business subject to these weird transient visitors who slam you in the summer and leave you all by yourself in the winter.
Dinner at the Garden Bay Pub and Restaurant was decent.  They suffer from being understaffed.  They had a help wanted sign out, something Kim remarked on: "when was the last time you saw one of those?"  It would have been nice to sit on the deck, but that was all reserved on the restaurant side.  The pub side had open tables, but was off limits to the girls.  There is a really nifty private dock right next to the restaurant that is slowly crumbling away.  It has maybe every third board missing.  It looks ready made for filming a dramatic chase scene.  Someone has a little yippy dog that is missing an eye and barks at me on the way up from the dock.  The owner says "oh sorry!  She has a problem with people wearing hats and sunglasses!"  Huh?  Maybe summers are not the best month to take you dog on vacation then.  Later Kim witnesses a local ripping the owner a new one for bringing her problem dog out in public.
The moorage here feels like a bit of an afterthought.  This place is really all about the pub.  On the way back we have a much better experience at Fisherman's Resort marina on the other side of the little peninsula here.  We walked over from there and had a great time at the pub.
I feel like since we hit Nanaimo we are definitely in the groove of a bunch of boats all going to the same place.  We know August is the most crowded time to go cruising.  It is starting to make me a little nervous about what is to come.  I've read the blog posts about the mega yachts with the loud late night parties and noisy boat toys dominating some anchorages in Desolation.  I fear I am seeing some of them directly across from me right now.
Today was a pretty good day.  We got to go for a very nice swim and put one of the riskier areas behind us.  On to Lund tomorrow!