Posted by: pat 9 years, 7 months ago
It has been a while but I'm going to pick up this slowly developing marine travelogue again with our journey from Garden Bay to Lund.  We got off to an early start that should put us into Lund around 1:00 PM.  It was clear it was going to be another scorcher, and very calm once again.
We passed an interesting sight a few miles out of Pender Harbor.  Someone must have bought a small covered dock second hand and was moving it to its new home.  The manner in which it was being moved was striking.  A small boat with an outboard was docked in the slip of the dock and was just motoring the dock north up the coast.  First time I have ever seen a dock under way.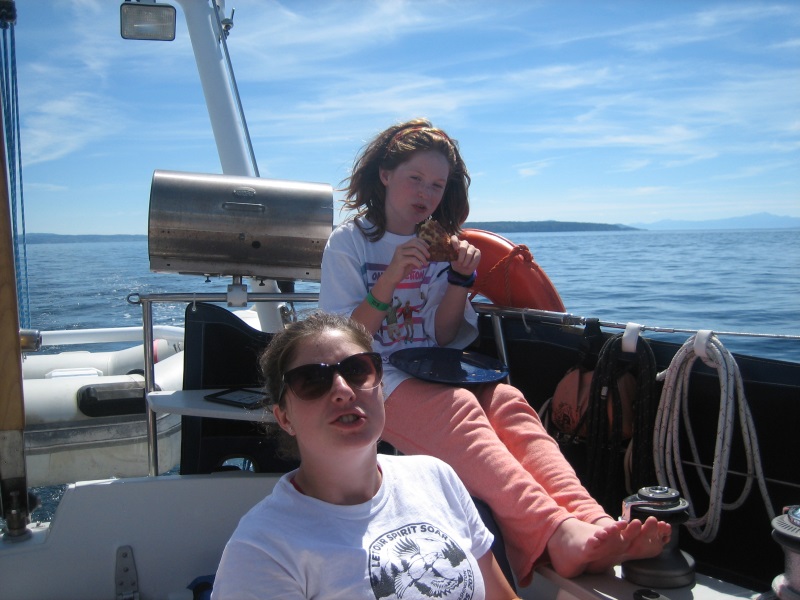 The journey was a bit boring and hot.  We motored north up the entire length of Texada Island, passing many of the danger and ditch spots I had carefully researched while planning the trip.  We are looking forward to the passage making days coming to a close, and are grateful for the lack of weather drama.  As we passed Powell River I recalled that Pat Okell had told me his brother Cam and family would be at the family beach cabin during our trip, so I got him on the phone to see if he could meet up with us.  Cam had other plans but I spoke with Rob, the elder Okell, about connecting with Pat and family later in the month.
I know to date these little updates on our cruise have been a bit of a whingefest with the complaints about this and that, but I have very little in the way of complaints about Lund.  We ended up spending more nights in Lund than any other spot on this trip.  We didn't plan it that way, but there are certainly many worse ports to end up spending unplanned time.  So please excuse me while I sing the praises of Lund!
First the marina.  The marina is in exceptional shape with nice wide docks, pumpout on the dock, plenty of marina-provided hoses and fresh water, nice wood steps available for use by visiting boats for boarding, very friendly and professional dock staff, and clean but busy washrooms and showers.  Wifi is pretty poor at the dock, but is good at the bakery on shore.  Rafting is mandatory, but we avoided that indignity on our initial visit.  The showers are 4 minutes for 2 loonies.  The marina has all of the amenities you need with none of the frills.  I always enjoy our stays on public docks in B.C., it feels like you are more connected with the community and nature when sharing dock space with locals and the local commercial fishing fleets.  
You look right out over the floating breakwater at the Strait and Savory Island.  It is a busy little harbor with constant comings and goings and lots of interesting boats to check out.  There are a couple water taxis that buzz campers back and forth from Savory Island.  The one thing it lacks is a good swimming option.  Swimming in the marina is not a great idea what with the electrolysis risk and general hazards, and it isn't exactly a park-like location.  It is pretty much right smack on the strait.  It was quite hot by the time we were tied up and squared away with power connected, water tanks filled, etc. and I was drenched in sweat.  Kim was getting worried I might expire from heatstroke and offered me a dockside hose drenching.
What with the Nanaimo liquor store being shut down from on B.C. Day, it was a huge relief to finally be somewhere I could restock the beer and liquor cabinets.  Bear in mind this is after I was a good citizen and kept our beer and liquor inventory within the customs limits while crossing the border.  I was down to maybe my last 6 pack of Fremont Interurban IPA and ready to stock up on Molson Canadian ($64 for a 30 pack!) when I saw the "artisan IPA" 6 packs in the fridge room at the general store.  I threw a "tester" 6 pack into our basket to see if it passed the test of crap Canadian craft beer.  There was a toothless local behind me in the checkout lane who saw my beer selection and declared "That stuff should be mandatory eh?  Oh yeah it's an IPA.  Should be served at 5C or 41 Fahrenheit."  Do Canadians do Celsius to Fahrenheit conversions in their heads?
On day 7 our laundry bag was starting to fill up so we were eager to do a few loads of laundry.  Elizabeth toted the bag up to the laundry room (she wanted to use the superior wifi signal on shore to Facetime some friends) and found...the power had gone out!  A fellow laundress informed us it was a 1,000 home outage and could take hours, explaining that it is "an end of the road thing."  She also told me that she had just moved from Cortes Island and felt like she was in the big city now (haha!) and that on Cortes they are accustomed to the power going out for days at a time.  Lund is famous for being milepost zero on the road that goes to the end of Chile.  After the power came back on we had to play musical chairs with the dryers to get one that would actually dry our load.  After my 3rd visit to the hotel's front desk to get loonies for the dryer I mentioned this and received the sympathetic response "yeah…our dryers are really not very good."  Thanks for the sympathy…now how about getting somebody to fix it?
The other nice thing about Lund is...we are DONE with long passages.  From here on out (until I do the return trip with Greg and Katherine) all of our trips will be in the range of 3 or 4 hours.  We are inflating the kayaks and getting ready to go on "island time" with leisurely meals, lots of swimming, exploring the little coves and inlets, and not stressing about the straits or Whiskey Golf.
Food
I did a recon mission to the Boardwalk Restaurant.  It is supposed to be local seafood and advertises that it offers "more than just fish and chips."  A look at the menu corroborated this claim.  Barely.  They also have some burgers and...maybe a hot dog.  The Lund Hotel had a much more extensive menu, and we figured we could get the wifi password so we went there.  It was a little underwhelming.  Kim rated her steak sandwich as the fourth best out of the three she tried that trip.  The chowder was a bit anemic and lacking in much rich flavor.  I can however recommend the Lund Burger without reservations.  Very nice with cheddar, bacon, and mushrooms.  And the girls found the ice cream pie transcendant, earning Lund "favorite spot" status with Cathy.
Washrooms and Showers
There are two private washrooms with showers.  They run for 4 - 5 minutes for two loonies.  The shower stall in the washroom on the left is quite large.  Two people easily fit in them, and I saw many couples going in together.  The shower ran long, much longer than I needed.  I just ran it on cold to cool down at the end.  Very nice and very clean.  The one thing I would change is to get rid of the carpet floormats outside the showers.  They were soaked through and not very appealing.  You don't have carpet in your bathroom at home do you?  Get the Entworks woodworking dude who is on the boardwalk to whip up a couple of nice cedar grates for the showers.
Currently unrated
Share on Facebook